Editor's Note: I finally had someone take me up on my offer to write for JohnRichTV.com. My good friend Patrick Rotheweiler wrote this about the first round of the NFL Draft. Welcome to the JohnRichTV.com family Patrick. It is an elite club that not everyone is cut out for. Thanks for picking up my slack this week. It's much appreciated.
SHEESH, that was the worst draft I have ever seen. Picks 1-10 boring and pretty status quo accept the order of o-linemen and how do you honestly recruit o-linemen? Who shoved the most nerds in lockers? Who knows. On a very real note there were some horrible picks last night that were possibly certifiable donkey brained picks and I am here to spill the beans.
Pick 5 Miami Dolphins: Justin Herbert QB Oregon
Justin Herbert had so much hype coming into this year and lived up to basically none of it and was taken 6TH OVERALL. Everyone has been hyping him up all year due to his Sunshine esque hair and coming from OREGON where QB's always pan out in the NFL. There weren't many prominent defenses he played until his last two games where he went a combined 28-46  for a COMBINED 331 yards with 1td and 1 pick. BUST
Pick 16 Atlanta Falcons: A.J. Terrell CB Clemson
(Stephen A smith voice) WHAT. Did you watch the national championship? I had to google to double check I had the right guy but I did and what a scary moment that was. Jamarr Chase metaphorically chain snatched this dude then proceeded to dunk on him and after Delontae West'ed Terrell's mother in the national championship. Chase went for: 9 rec for 221 yards and 2tds. For your viewing pleasure the absolute scorching of this man (number 8 on clemson): https://www.youtube.com/watch?v=zR2dwpgbUPI
COMBO: 
Pick 12 Oakland Raiders: Henry Ruggs III WR Alabama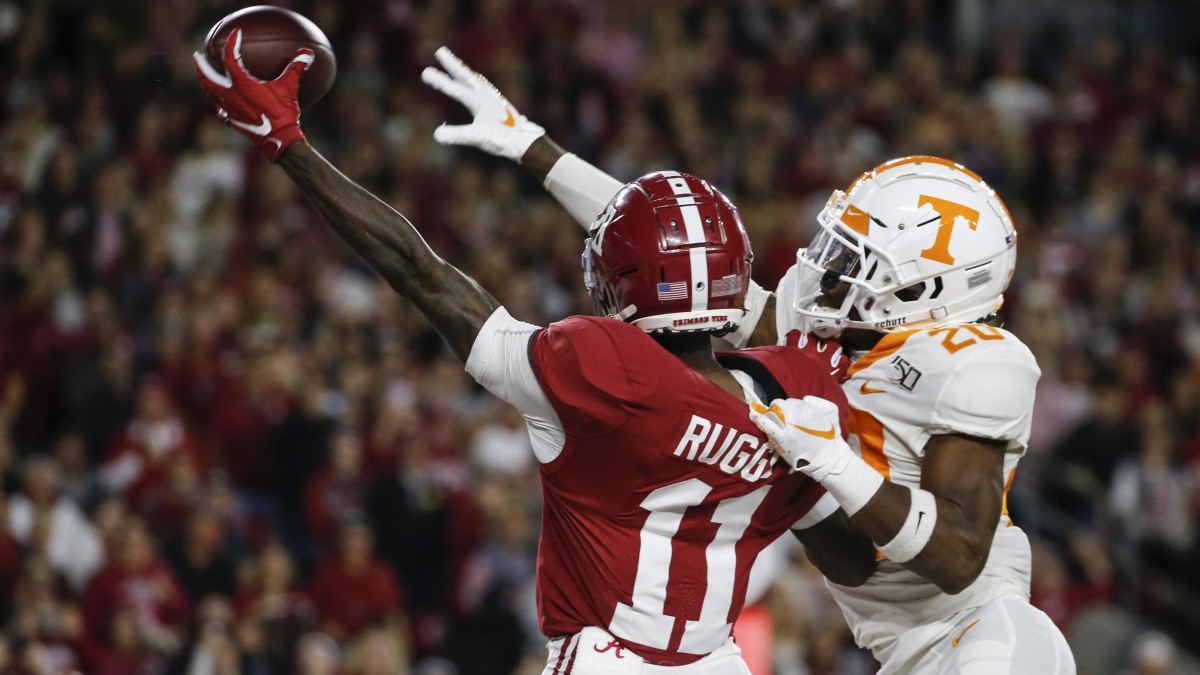 Pick 22 Philadelphia Eagles: Jalen Reagor WR TCU
Apparently every GM watched Tyreek Hill and said fast guys (also known bad guy) are good at football. As a well known physically slow man I can appreciate speed but at these spots the picks are dumbfounding. I am not here to hate on these picks because I think they can be good just the fact of where they were taken with what was on the board. How do you not trade back in either of these scenarios. First off I do not care which one you think is better, Ceedee or Judy, but we can all agree they're better than Ruggs. The Al Davis effect lives on where physical traits>talent. Finally for my favorite pick of the draft Jalen Reagor for the birds. I hate the birds so I loved this pick. How do you not trade back to 26 or take the better receiver with a way better nickname Justin Jefferson (JJ Jettas)? Jefferson is getting too much disrespect because he played with Burrow but as a slot guy who can win 50/50 balls I love him as a prospect. If that all doesn't sell you on him and if sports teach us anything a good nickname or phrase just makes you better (see ain't no stoppin OBI TOPPIN for reference).
Pick 23 Los Angeles Chargers: Kenneth Murray LB Oklahoma
He plays linebacker on a big 12 team and his name is Kenneth. BUST.
All in all there were many more bad picks but these are the ones that stood out. Many of you may believe that the Jordan Love pick should be included here but you are indeed not realizing Aaron Rodgers is a year older than Favre when they picked him so he will probably bitch and moan as he seems to have done throughout his career but I actually like this pick.